Here are the meetings scheduled for 2020:
March 12th at the Town Hall
May 14th at Veteran Grange
July 9th at Veteran Grange
September 10th at Veteran Grange
November 12th at the Town Hall
We encourage & welcome new members at any time.
Like us on Facebook and keep up to date on all our projects.
If you have any suggestions or ideas for the Society please let any officer know. We appreciate all feedback.
SAVE THE DATE
TOWN OF VETERAN HISTORICAL SOCIETY
3RD ANNUAL CRAFT FAIR 2020
SATURDAY, NOVEMBER 21, 2020 10am-3pm
HORSEHEADS AMERICAN LEGION
71 OLD ITHACA RD HORSEHEADS, NY 14845
$25 PER TABLE (YOU MAY HAVE MORE THAN ONE)
APPLICATION REQUEST TO: ANITA HESSER
E-MAIL ash10@cornell.edu
PHONE 607-796-9765
ALL CRAFTERS AND VENDORS INVITED
THIS IS A GREAT LOCATION AND A GREAT DATE. LARGE FACILITY, LOTS OF PARKING.
GET YOUR 2020 HOLIDAY CALENDAR STARTED AS SPACES WILL FILL UP FAST. THIS IS THE SATURDAY BEFORE THANKSGIVING SO A GREAT WEEKEND FOR SHOPPERS, LOCALS AS WELL AS OUT OF TOWNERS!

.

Our Ongoing Fund Raiser for cans / bottles:
The collection bin is set up at the Grange Hall located at 777 Ridge Road. Just drop off your
cans / bottles & we will take them back to "Can Do" where they give us 7 cents per container.
You can also take them back to a location of your choice if you prefer.
If you take them to "Can Do" please remember to mention that they are for the Town of
Veteran Historical Society. "Can Do" is located at 111 Ridge Road directly across from the
Ridge Road Elementary School. Their current hours of operation are Monday through
Saturday 10 am to 6 pm.
Town of Veteran logo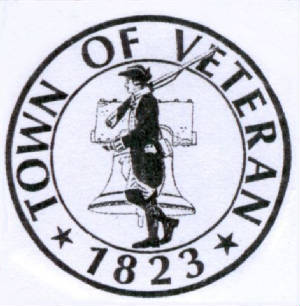 Minute man by George Acker